What is Qigong?
The literal meaning of "qi" is hard to translate, loosely it means energy or air, While "gong" means work.
Qigong is an exercise and skill, which aims to bring harmony to the spirit, body and breath. In traditional Chinese medicine theory, the flow of qi guides the functions of the body; blocked qi can result in illness. Harmonising qi is the way to bring balance and health to the body mind and spirit. Qigong practice can rebalance the body's qi. As your experience of qi increases, you can unify the spirit (shen), Essence (jing) and energy (qi) to increase your wellbeing and strength.
I teach classical forms of qigong.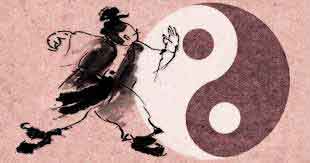 In the practise of qigong there are both external and internal movements: the internal movements are called Nei Gong (meaning internal power and awareness).
It is this that makes qigong a superior health and wellness practice.
Qigong is traditionally taught for health, spiritual and martial power.
I aim, in my teaching, to combine aspects of all three.